€1

Reformer Pilates Class Trial
Reformer Pilates is a light resistance, low impact, controlled form of movement. Its primary aim is to maintain or restore functional movement, while creating balance in the body. We activate muscles in isolation and then progressively work them in more compound and dynamic functional movements which you are likely to perform during your daily life.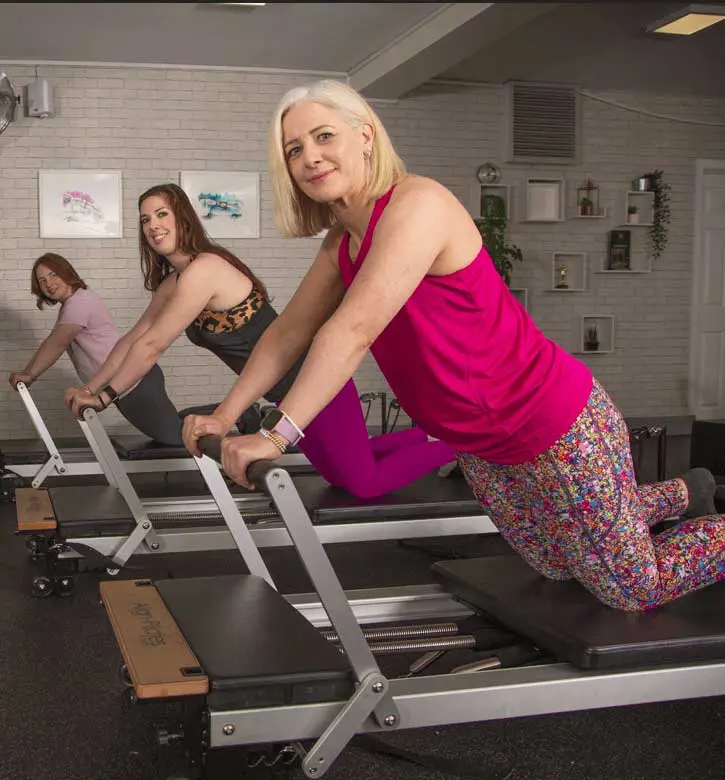 Ready to Elevate Your Fitness Journey?
Dive into the World of Reformer Pilates with Our Exclusive €1 Trial Class Offer!
Are you curious about Reformer Pilates but hesitant to take the plunge?
Are you searching for a fun way to get in shape?
Now is the perfect time to experience the incredible benefits firsthand! Join us at our Sallins and Maynooth studios for a trial class, and it will cost you only €1.
Why Choose Our Reformer Pilates Classes?
✅ Expert Trained Instructors: Our seasoned trainers will be your guiding stars, ensuring every move is just right for you and your unique body.
✅ Fun and Inclusive Atmosphere: Our classes are more than just workouts; they're a community where everyone is embraced, encouraged, and supported.
✅ Transform Your Body: Experience the remarkable transformation that Reformer Pilates can bring to your life – from a stronger core and enhanced flexibility to improved overall well-being.
Here's what some of our clients are saying, you can read these and more on our Google reviews!
I suffered a neck and back injury twenty years ago. This injury had left me in constant pain and I wasn't able to participate in the day to day activities that most people take for granted. I went to Finesse Movement for help as I fed up living in constant pain and not being able to exercise. The Finesse Movement team have the knowledge and expertise to tailor the exercises for me. I have seen my strength and fitness increase to the extent that my injury is no longer holding me back from enjoying life. One of the added attractions of this studio is that they have Physical Therapists on site who are also familiar with the classes being taught. All in all, it's a one stop shop to getting you moving again.
Don't miss out on this opportunity to embark on your journey to a healthier, stronger you.
This incredible offer is available for a limited time only, valid until 30th November.
Your path to a healthier, happier, and more energized you awaits!